Oct
16
Mon
General and Julia Grant to Sail on the American Queen Steamboat for a Civil War Cruise: Clarksville, Tennessee, to Chattanooga, October 16th-23rd, Instant

@ American Queen Steamboat Company
Oct 16 @ 13:00 – Oct 24 @ 08:00
General Grant is most pleased to announce that he, and Julia Grant, will be aboard the American Queen, the world's largest paddlewheel steamboat, for a Civil War cruise from Clarksville, Tennessee, to Chattanooga, Tennessee, from October 16th through October 23rd, instant.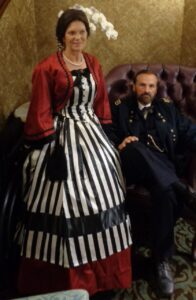 The cruise will visit Fort Donelson, Shiloh, and other places of exciting interest in the War; ending in beautiful Chattanooga where the General opened the 'cracker line', saved the Federal army, took Missionary Ridge and Lookout Mountain and firmly established his reputation as the General who could lead the armies to victory.  General Grant will give two presentations in the Grand Saloon (shown below) and one informal discussion with Q and A, at a time/place to be announced on the cruise.
Also on the cruise will be: President Abraham Lincoln (George Buss), Bertram Hayes-Davis (great grandson of President Jefferson Davis), Gene Salacker, author of " Disaster On the Mississippi", a book about the Sultana tragedy.  They will all give three presentations and all are most interesting!
General Grant looks forward to, once again, rolling on the Tennessee river on The American Queen, with Julia, and talking about the War in the Grand Saloon, twice, and in another informal gathering on the boat.
The General advises you to contact the American Steamboat Company.  They are wonderful folks and may be reached at:1-888-749-5280.
Their home address is: One Commerce Square (21st floor), 40 S. Main st., Memphis, TN  38103